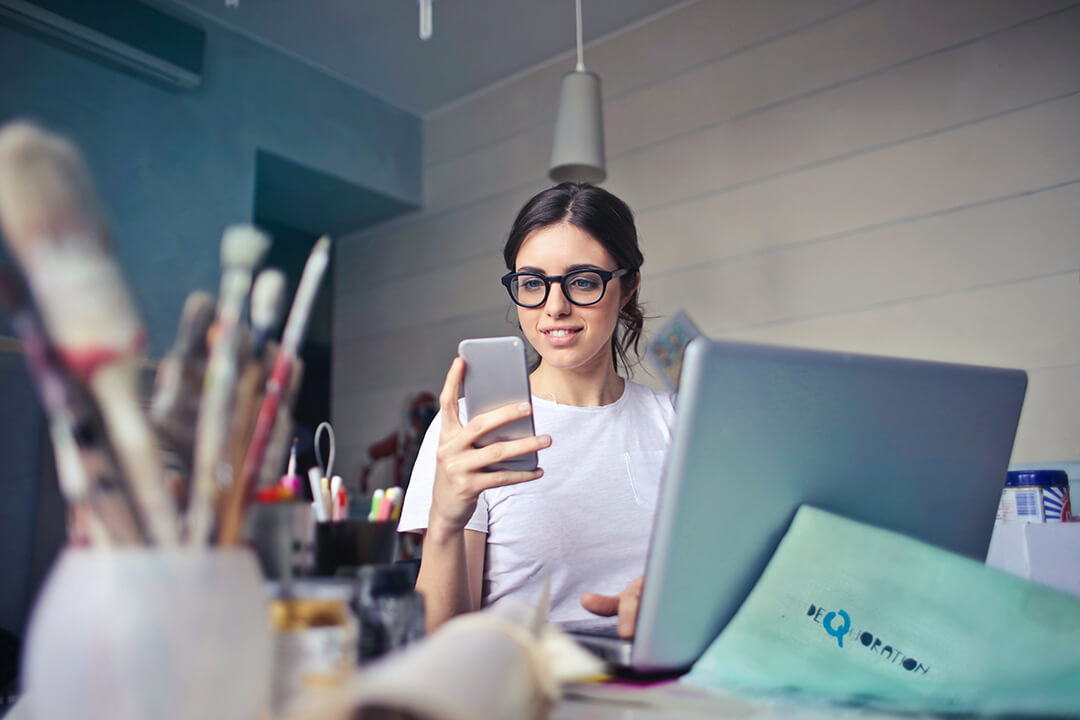 6 Social Media Tips for Artists
Up your social media game with these marketer-approved tips for artists.
1. Use video
Lights, camera, action… video is here to stay! Whether you pick up your phone to create a video or use social media tools like stories, reels, TikTok or live streams, video is another way to connect with your audience. Tell a story about your work and what inspired it or show your process in a "behind the scenes" series.
Additionally, spicy offers creatives of all walks with video services that capture the essence of their artistry. Our storytelling techniques and recent productions can be seen by clicking on this link.
2. Tell your story
Ever listen to a story that sparked you into action or trigger an emotion?
Good storytelling is about compelling your audience to connect with you and your work. Don't be afraid to give your audience anecdotes about what inspires you. Use your artwork to tell people about:
the inspiration behind creating it
the meaning and secrets it holds
the reason for making it
Ask your audience to like, share and/or comment with an emoji.
3. Show your process
Don't be shy, share your creative process with your audience!
It's important to invite your audience to the "behind the scenes" of your studio or creative space. Make them feel like they are getting to know you and show them what inspires you. One way to do that is to create a piece of art from start to finish and document the creation process through images and video (including time lapses). Share your process through your feed, stories, reels or even get on the TikTok train.
4. Style your art
No models needed… make your artwork the star!
Pick a room in your home and style your artwork to give collectors a view of what it could look like in their space. Place your work on a wall, shelf or on a flat surface and use complementary furniture and/or decor to enhance the colors, texture and form. Take several photos from different angles and distances. Styling your work is a great way to show your audience a sense of scale. You can also use apps and websites like Artmywall or Canvy.
Sometimes it's hard to imagine art seen in a gallery to that of your collector's walls, so get creative and start styling.
5. Build Community
Be an advocate for creatives and promote your local art community.
Building relationships is key to building your social following. Follow your local creators/artists and start a conversation by liking, commenting and direct messaging them. We encourage you to share their content through your social media channels and tag their profiles. Finally, we recommend using a strategy of social media outreach to promote your artwork, event or exhibition.
What is social media outreach? It's a way to encourage the sharing of your content and social identity. Use the following recipe and modify it to fit your social media strategy:
Create a piece of shareable social media content.
Identify your outreach audience. This can be anyone from creators/artists to collectors, friends and local art organizations/professional groups.
Write a brief note to send to your outreach audience. See below for an example and adapt it to fit your brand.
"Hi there, help me get the word out about my upcoming exhibition. Can you please share the above post to your stories or feed. I hope to see you at the opening of my exhibition. Let's encourage people to show out for the arts and support our local artists. Thank you 😊. "
Now take your social media content and your brief note and share this with your outreach audience.
6. Make it easy for people to purchase your art
Instant gratification is real… so give them what they want.
As you continue to share your artwork and inspire your audience, give them the ability to purchase your work. Use your link in bio to connect your social media profile to your online shop or the gallery where folks can find your work.
Have a lot of links to share?
Use linktree to consolidate your links into one. Best of all, it's a free tool to use.
Additionally, Spicy is here to help you with your E-commerce game. Contact us to set up a free consultation and learn about your options.
A few things to remember as best practices for your social media strategy:
Use relevant hashtags
Curate your content by making a plan
Be yourself and have fun